Back to DIY submenu
ADVENT CALENDAR:
I grew up always having an advent calendar before Christmas, and I wanted one for my dollhouse as well. I will start this page with two different versions of the advent calendar I made - feel free to save either of them and use it in your own dollhouse (please contact me first if you want to put it on your own site, or sell any scenes where you have used it).
To save a picture, hold your mouse cursor over it, right-click, select "Save Picture As..." from the menu, and remember which folder you save it in so you'll find it later for printing! (If you want to print it right away, select "Print Picture...")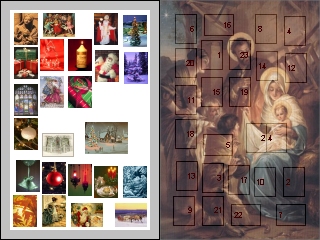 This version has the dates 1 - 24 marked on it.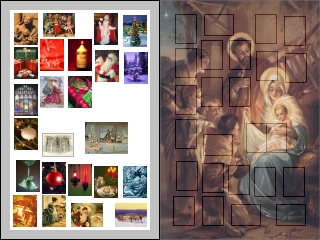 This version is without the dates.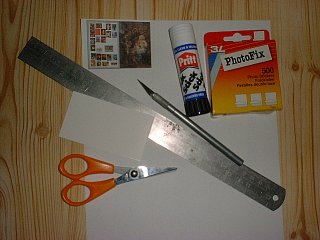 Here's what I used putting the calendar together (well, actually I didn't need that metal ruler after all..) LIST: Print-out of the calendar, paper glue stick, double-sided photo stickers (double-sided sticky tape will do as well), piece of card, metal ruler (optional), scalpel, scissors.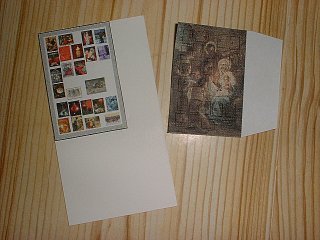 Cut out the calendar background (the part with small pictures), and glue it on thin card using paper glue stick. As you can see in the picture, I left a slip of paper on the front picture, to have something to better hold it in place while cutting the little windows.. You don't necessarily need to do this, but I found it makes it a bit easier.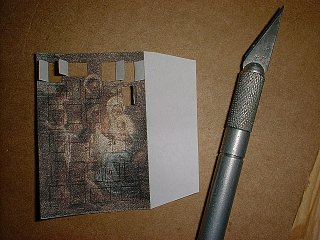 Cutting the windows.. You can use a metal ruler if you like, but I found it easier to just follow the marked lines with the scalpel. Remember not to cut all four sides!! Cut only three sides, so that you can open them like doors.. Also, use some cardboard between your calendar and the surface you're working on, or you'll end up ruining your desk/table..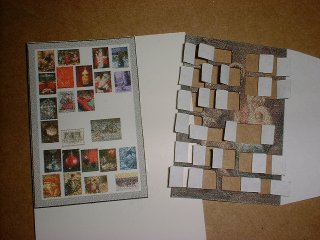 All windows cut. I've used the numbered version of the calendar, and made the windows open on the number sides.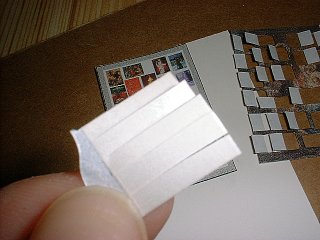 You CAN use paper glue stick in this last phase as well, but there's only the pale grey area to glue the edges, and some white gaps between the small pictures where it's good to put glue or sticky tape as well, so it might be easier to cut thin strips of tape or sticker than apply glue on such tiny areas. Whatever best works for you..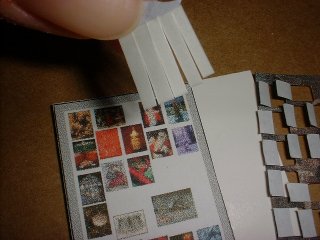 I'm about to put photo sticker strips in place..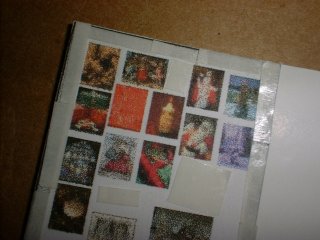 Ready to add the front picture.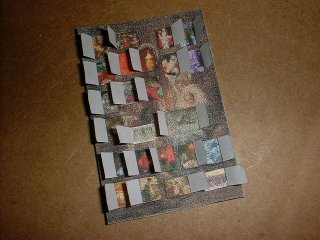 Carefully put the front picture in place, starting from a corner to make sure that you'll get it straight. I cut out the excess card and paper as well, before taking this picture.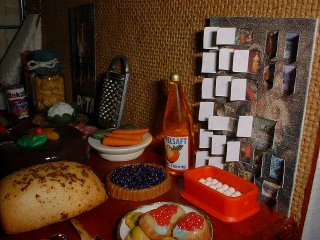 My French chef is happily living on December 24th already - in early October as it is when I'm making this page! You *could* close the windows again after putting the calendar together (trust me, you DO want to properly open them before gluing as otherwise you'd end up ripping parts when trying to open them for the first time afterwards..), and start opening them from December 1st, one window per day (following the numbers), but personally I'm happier with just the look of having the calendar in my dollhouse.
Back to DIY submenu